---
---
Definitely. So weird cause their faces are so much older. Too bad Lark is "crazy" and Dustin is a delinquent.
---
Tiffany, Elizabeth and Mario haven't aged much (in my opinion).. Mark a little and Belding is twice as big as he used to be
---
Tiffany looked different then she did in the 90's, but she's still HOT, Mario basically looked the same, but Elizabeth looks like she walked out of a time machine into the show. agree on Mark (the blonde hair made him look like some dude in his mide life crisis) & not sure why Belding gained so much weight.
---
Tiffani is pregnant, that's why she looks "swelled." Dennis Haskins is in awful shape, he's been eating and drinking nonstop for years now. The costuming was hilariously good as well.
---
---
Greg2600 wrote:Tiffani is pregnant, that's why she looks "swelled."
That's not why I think she looked different, but I knew she was pregnant before I watched the video, but she certainly has a bit more meat on her bones then during the original series & not a lot, she just has a bit more fullness in her face that wasn't there in the original show, but there in the recent years.
---
Marked Out Master
Posts: 1175
Joined: March 21st, 2008, 11:21 am
you guys are tough critics... saved by the bell was what 20 years ago? over 20 years ago? look at pictures of yourselves from 10 years ago, even 5 years ago and i bet you'll see a big difference..look at yourselves in 20 years, you'll be lucky if you aged even half as well as any of them, other than belding...

what happened to belding happens to a lot of people as they age...they get significantly heavier...
---
Everyone looked fine. Belding looked that way for years. And Tiff looked the same as she has
---
Marked Out Master
Posts: 1710
Joined: June 6th, 2009, 6:32 pm
Location: Mechanicsburg, PA
Contact:
I thought Mark looked the worse of them all, but still very good. I think it was the hair moreso than anything else. Everyone else was flawless, minus of course Belding.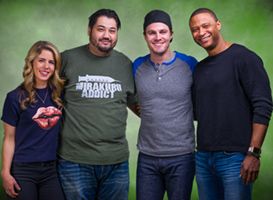 http://www.cmshowstopper.com/
Official Webpage Of CM Showstopper
http://www.fallenangelchristopherdaniels.com
Official Webpage of Christopher Daniels
---
jesus CHRIST Belding! Get it together old man!
---
---