This was my 2nd New York Comic Con and it was relatively tame experience. Heading into this event, I was VERY disappointed with this guest list. On the one hand, I don't watch much television because I consider it to be an absolute chore. So because of my complete ignorance to today's pop culture, Gotham and Doctor Who names are meaningless to me. On the other hand, I'm beyond stoked for Rhode Island Comic Con because their guest list is very diverse. They have big names from today's films (Gal Gadot) and television (Millie Bobby Brown) while bringing in big names from older films and television. NYCC's guest list was just so meh in comparison.
I only pre-ordered one photo op (Jack Gleason) although I debated paying the absolutely grotesque $70 price for Nichelle Nichols; ultimately, I decided against it. I know she's elderly and this could've been my last chance at getting her but $70 is just way, way too steep. Hell, for ~$30 more I could've gotten a Stan Lee photo op. Oh well.
My mom and I arrived a little after 10:00 AM and waited on an absurdly long line that stretched several blocks and avenues. Here's something that enraged a lot of people: we were literally across the street from the main entrance when we were told to swing around and merge with another, much shorter line. It appeared like we could've cut that entire monstrosity if we ignored the NYCC staffers and headed down to 11th Avenue. Oh well.
Anyways, we made it in just after 11 and decided to hit up Artists Alley and saw nothing that piqued my interest. I then made my way down to the autograph/photo op area and saw Stan Lee, Jack Gleeson, and others signing away. Their price tags were too rich for my blood.
We headed up to the Exhibitor Hall and man…what a fucking shit show. I barreled my way to the Headlock booth and, to my surprise, saw
Ric Flair
sitting at their booth. Booker T was originally scheduled for today although he was nowhere in sight, so it appeared that he canceled.
With Booker T no longer appearing, I decided to pay the $50 autograph fee and get Flair to sign my WrestleMania 32/HOF program – mainly because the rest of the Horsemen will sign it next weekend at Legends. Flair was as nice as can be and told me to have fun with the rest of the Horsemen next weekend. He took his time with his signature (as always) and he really is a must meet.
I decided to get
Jerry Lawler
's signature in the program for a reasonable $20. A combo was $30 but I decided to save the $10 because I have a perfectly fine photo op with him (and one with him & JR). He was very nice although we had an exchange that was a little weird. He asked me if I wanted him to personalize it or just sign it. I said, "Just a signature is fine" and he replied with, "Well get a picture of me signing it so you have proof…" and he let the sentence trail off. It sounded like he was implying that I would need a picture of him signing it as proof when I decide to sell the program. Maybe I'm reading too much into it.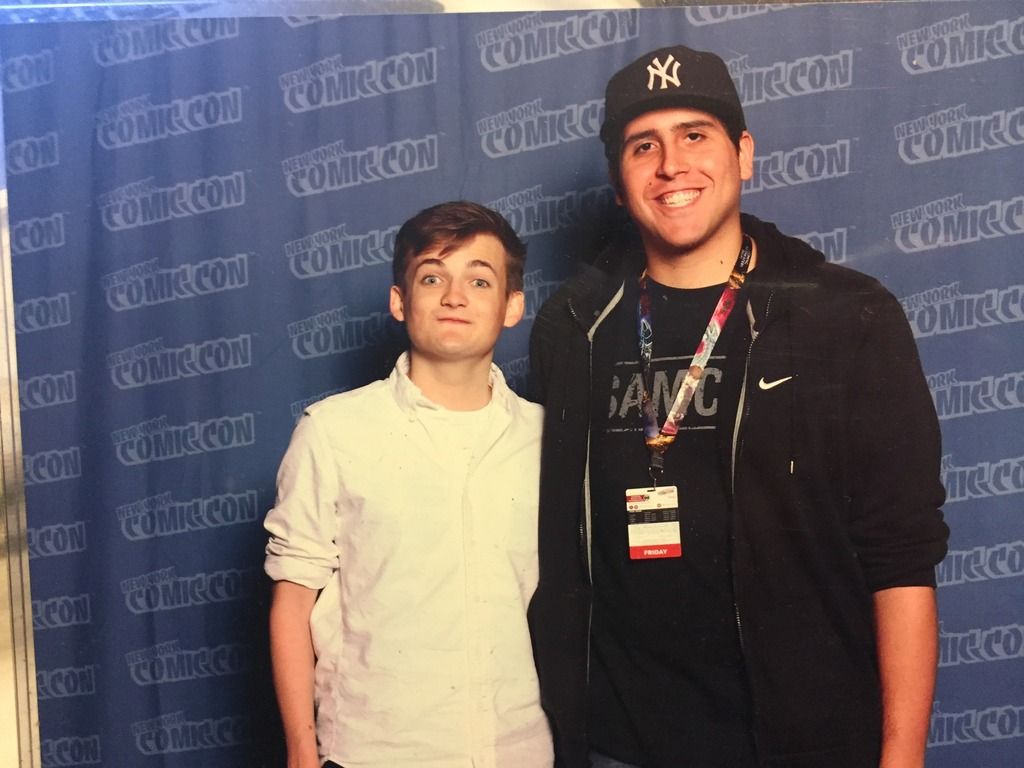 Anyways, we walked around to kill some time before my 1:45 photo op with
Jack Gleason
. It started right on time and I was out a little before 2:00 PM. He was very nice and actually shook hands, none of that "fist bump" bull shit I expirenced at the Star Trek: Mission NYC convention. With Flair, Lawler, and Gleason done…my day was almost over. All I had to do was get David Mack, by far and away my favorite Star Trek author, to sign a copy of his omnibus Star Trek: Destiny.
Wait until you hear this bullshit.
So before my photo op, I was charging my phone in Artist Alley and decided to flip through the program to find Mack's spot: O-11. I headed over and saw the David Mack banner…but the person behind the table was most certainly not David Mack. As it turns out, it was a completely different David Mack.
The David Mack I wanted to meet was in the Exhibitor Hall in booth 1232. So after my photo op, I headed up there and decided to do another walkthrough before zeroing in on his booth. I picked up an Eaglemoss exclusive USS Yorktown from their epic Starship collection. I also got a free poster signed by a Star Wars author James Luceno.
So it's getting late, I see nothing of further interest in the exhibitor alley, and I decide it's time to finally find David Mack. So I head to aisle 1200. I reach the end…and it's 1237. Not 1232. 1237.
Okay, no problem. I walk around the approximate area…nothing. I make sure he's at booth 1232 – despite the last booth being labeled 1237 – and, yep, his own Twitter profile says 1232. So I go over to information and they point on a map where booth 1232 is. Furthermore, Mr. Mack posted some pictures of himself near his booth – including one sitting in front of a black curtain – so THIS FUCKING BOOTH HAD TO BE THERE.
So I walk around some more. And more. And more.
IT'S NOW FOUR O'CLOCK AND I STILL CAN'T FIND THIS FUCKING BOOTH. I decided to give up. And just as I decided to leave…there he was.
Except his "booth?" IT WAS A PILLAR. A GIGANTIC PILLAR. FILLED WITH DIFFERENT AUTHORS. THE "BOOTH" DIDN'T EVEN HAVE HIS BOOKS LAID OUT. I SPENT ALMOST TWO HOURS LOOKING FOR A BOOTH WITH HIS FUCKING BOOKS LAID OUT.
I went up to him and he was nice as can be. He signed and inscribed my Destiny omnibus beautifully and I have zero regret meeting him.
So, to wrap up: meh. I got some cool stuff but finding David Mack's "booth" took a little bit of my soul.