Ring of Honor and New Japan Pro Wrestling returned to the Hammerstein Ballroom as part of their annual War of the Worlds tour. The lineup for this show looked really good on paper despite lacking Kazuchika Okada (IWGP Heavyweight Champion), Kenny Omega (visa issues), Tomohiro Ishii, and even Jushin "Thunder" Liger.
My wants for this show were plentiful but my main want was Adam Cole (BAY-BAY!). It's no secret that Adam Cole is headed to NXT, so this would likely be my last chance to score two autographs I really needed.
My original plan was to leave work a little before 6:00 PM, head to a bar to meet up with some friends, and then head over before doors were scheduled to open. They originally said doors would open 90 minutes before advertised bell time, which meant 7:30 PM. Of course, they moved it to 6:30 PM and, to make matters worse, I left the office a little after 6:00 PM after we were suddenly dumped with work during our last hour. Boo.
I got to the Hammerstein Ballroom just before 6:15 and saw Ira waiting on line. WOODMO joined us soon after and we chatted for a bit. My friend, who was coming in from Connecticut, joined us just after 6:30.
The doors opened soon thereafter and we immediately hopped on the meet and greet line, which was pretty damn long but moved fairly quickly.
Mandy Leone, Bully Ray, and the Briscoe's were stationed in the front of the room but they were all easy passes. Next to them, though, were two major wants.
Up first was
Hiroshi Tanahashi
, the "Ace" of New Japan Pro Wrestling. I've already met him twice but I needed him in my Wrestle Kingdom 10 Program. Tanahashi was nice as always and even personalized his autograph.
KUSHIDA
was up next, another repeat meet needed in the program. He actually wanted to know how I obtained it (eBay). I told him I watched WK 10 live on New Japan World and that seemed to really make him happy. A staff photographer from NJPW was taking pictures of my program and I gave a little shout out to the camera about how great New Japan World was. Afterward, the photographer approached me and asked if he could take photos of me with my program! How awesome is that?
It was time to meet three members of Los Ingobernables de Japon. Up first was
SANADA
, who actually wrestled in TNA for a while but they did absolutely nothing with him. He signed the WK 10 program and an 8x10! He also allowed me to pose with the NEVER Open weight Six-Man title.
EVIL was up next. I met him two years ago when he was Wantanabe and it's truly amazing to see how far he's come. He signed the WK 10 program and an 8x10 and also let me pose with the belt.
BUSHI was next. He was really quiet but nice. He also signed the WK 10 Program.
And finally…the leader of LIJ himself…Tetsuya Naito. He is one of the best, most entertaining wrestlers in the world and a hell of a guy too. Really, really nice. He signed the WK 10 program and put the IWGP Intercontinental Championship around my shoulder. Great guy.
Hirooki Goto had no one at his table, so I had him sign my program. Nice guy.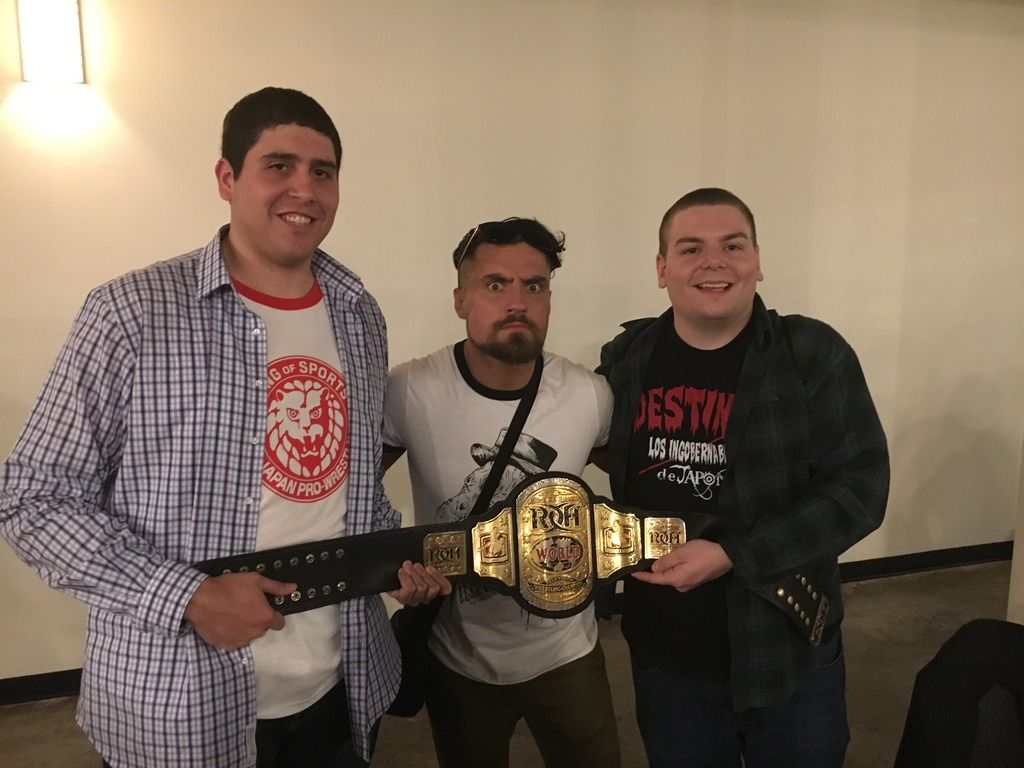 Marty Scrull was next and here's where I ran into a dilemma. I somehow misplaced an autograph ticket! Thankfully, I had given my friend an extra one I didn't think I needed. He agreed to a compromise: I would get my PWG card signed, he'd get an 8x10, and we'd both be in the photo. Thankfully, Scrull was good enough to do that for us. I liked how the pic came out.
Finally…the man we all came to see…ADAM COLE BAY-BAY. He was INCREDIBLY nice and signed both my program and the PWG card, previously signed by the Young Bucks. Just a tremendous guy.
The show itself was really good. Marty Scrull actually replaced Adam Cole in Bullet Club, which was the highlight of the night for me.
Autographs: