This happened a few weeks ago but I haven't had time to post this report.
I'm a huge One Tree Hill fan, so even though getting there was a bit of a hassle, I headed down to Wilmington for the Eyecon convention. Being a Chicago PD fan as well, Sophia Bush being announced made the trip worthwhile. I headed down on Friday, but due to my flight being delayed I missed the first panel of minor guests
:( . Saturday came and it was time for Robert Buckley (Clay Evans) and Stephen Colletti (Chase Adams). I was super excited for Robert since he's the reason I've been keeping up with iZombie, which is actually a pretty entertaining show. The panel with the two of them was hilarious as was the one with Brett Claywell (Tim), Michael Copon (Felix), and Antwon Tanner (Skills). Michael kept talking about getting to kiss Sophia on the show.
I got the dual photo with Rob and Stephen and I made a comment about how I was feeling really short so Rob said "Not for long!" and squatted down which was actually pretty funny.
I also somehow ended up with an extra photo op in my package so I used it on a Stephen solo photo.
I had a meet and greet with Stephen as well and at the end we were all allowed to get pictures. It was pretty funny because Stephen is a photographer so he had to make sure we stood in front of a good background and that all the pictures came out well. He thought the first selfie was too blurry so he had his handler take another one.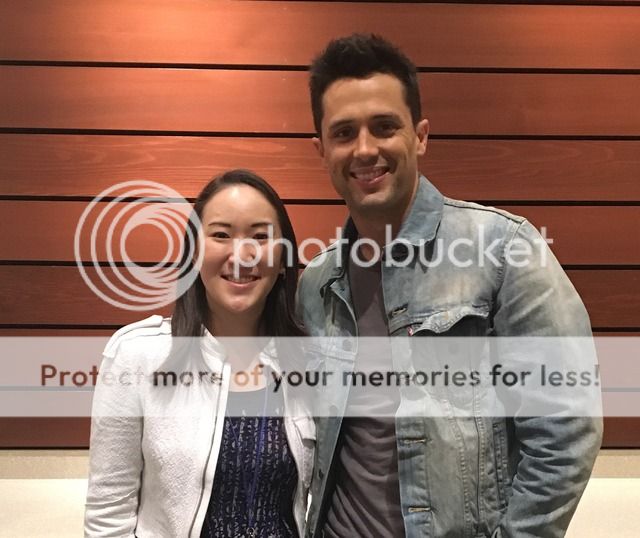 Saturday night was the banquet where you get to have dinner with the actors that are there that day, and I sat at Rob's table. He was hilarious and was actually texting Shantel VanSanten pictures of the banquet since she was flying in that night. He also read us texts she sent him that were hilarious and made no sense because she was trying to use voice to text. I got a cool screenshot when he airdropped us a picture that he took to send to Shantel.
Sunday was the day of Sophia Bush (Brooke Davis). This was possibly her first US con? So, as a result, Sunday ran nowhere near as smooth as Saturday. I found out later that between her solo, duo, trio, and cast ops, she took close to 800 photos. Anyways it was a lot of waiting and delays because Eyecon insists that nothing can happen at the same time so panels cannot start until all photos are done, and autographs can't start until panels are done.
An interesting moment that happened showed how a simple comment can be twisted though. During photo ops, I saw Sophia ask a girl if she wanted to take off her con lanyard because it would ruin her shot. It was a super sweet and nice moment actually, but on my way out a volunteer was shouting down the hallway, "Sophia DOES NOT want your lanyards in the photo! Take them off!" It was sad that something that started out as a nice gesture could be twisted into something that could be taken as "diva behavior".
I also got a Clinn photo because I loved them as a couple on the show and I love how they're still super good friends so many years later.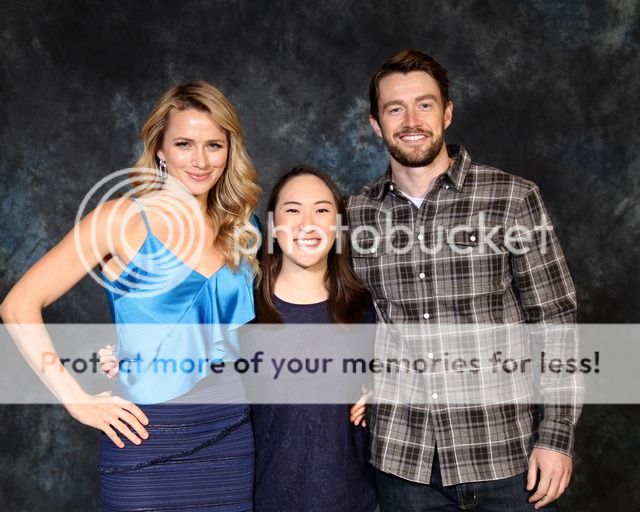 Shantel VanSanten (Quinn) and Robert Buckley (Clay)
I did the autograph session where you could also get pictures with all the actors, but unfortunately, due to Sophia being there and all the delays, this session was extremely rushed and did not last the supposed hour. Sophia also did not personalize any autos.
Ashley Rickards (Sam)
Sophia Bush (Brooke)
Cullen Moss (Junk)
Colin Fickes (Jimmy)
Devin McGee (Xavier)
Antwon Tanner (Skills)
Stephen Colletti (Chase)
Lindsey McKeon (Taylor)
Michael Copon (Felix)
Brett Claywell (Tim)
Unfortunately this came out blurry :(
Shantel VanSanten (Quinn)
Robert Buckley (Clay)
Finally, there was a meet and greet with Sophia Bush and one of the coolest things was that it was at the house that was used as Brooke Davis's house in the house. We were able to get a picture with Sophia in front of "the red door", which fans of the show know was a big part of Brooke's character.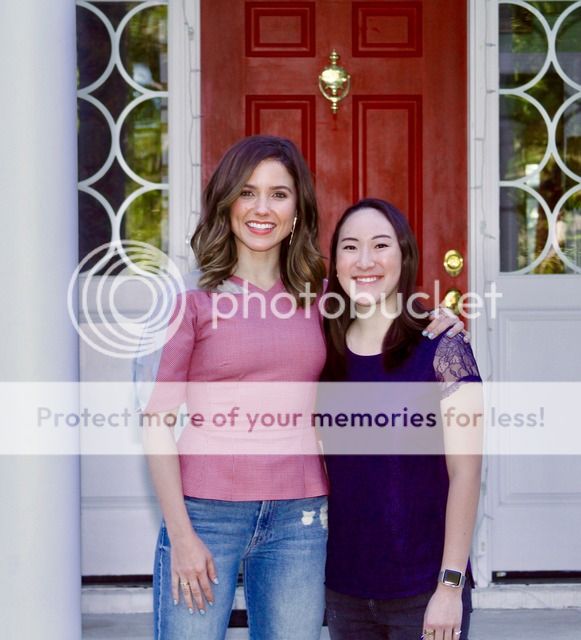 Unfortunately, since I had to get back by Monday morning, I had to take a flight out Sunday night and missed the Bryan Greenberg meet and greet and the concert. Robert Buckley, Shantel VanSanten, Ashley Rickards, and Lindsey McKeon ended up surrounding me on the first leg of my flights back though :) .
Overall the convention was a lot of fun as a fan of the show but extremely exhausting. The extreme delays and disorganization of Sunday also minorly tainted a otherwise pretty great convention. I was also able to get a few autograph pieces that I am very happy with.