I've made posts around the forum for the past couple months, but my name is Steven and this is my first Report. I've been doing this hobby for about 2 years now.
So, I heard about a spot where
Dylan McDermott
was this week. I was a massive fan of The Practice and I missed him during TV week last year so he is a major want of mine. I built this week around him, but figured while I was in town I would see what else there was to offer. I heard about
Nicholas Brendon
from Buffy the Vampire Slayer holding a Karaoke Meet and Greet at a bar. Not a good sign since he'd had a lot of trouble with the law recently for public intoxication and abusing his girlfriend. I got him at NYCC back in 2012, but it's been a long time and I was going to be in the city anyway so I figured
Why not.
So I headed to the first spot in the morning and saw some familiar faces among the graphers and fans. The first celebrity there was
Jason Jones
from The Detour which I enjoy and I met his wife Samantha Bee last year so he would be a nice one to get. Well unfortunately he stopped for a few people on either side of me, then apologized and left.
I knew things were going to pick up here as the next people coming were the cast of Waco including
Melissa Benoist
. I was not wrong. The place became packed with paparazzi, graphers, and fans. I got there very early I was right up at the barricade getting CRUSHED. I got
Taylor Kitsch
from Friday Night Lights and
John Erick Dowdle
who co-wrote the movies Quarantine and Devil. Both really nice guys. Melissa showed up late and apologized and went right inside. As did
Michael Shannon
who straight up pretended like we weren't there.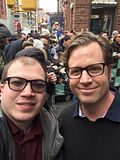 While waiting for the cast to come back out,
Chloe Lukasiak
from Dance Moms arrives. I have no clue who she is, but hey she's there and I'm there so why not and I get a picture. The cast of Waco comes back and Michael Shannon just says "I have a cold" in a bored and very unconvincing voice and heads into his car. We're waiting in the freezing cold for you guys, but ok sure, whatever. Next out is Melissa, who to my surprise makes her way down the line taking care of people. Fans were shoving Funko pops and cameras in my face but I managed to get a picture!
As she's leaving a fan starts screaming at her, for not taking care of him, but sorry you showed up late dude. Better luck next time dude, don't berate the celebs because you got a bad spot. Next out were
David Thibodeau
and
Paul Sparks
. Things are starting to die down after the Melissa fiasco so I grab pics with them.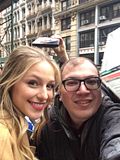 Next up is Selma Blair from Cruel Intentions and The Sweetest Thing who I adore. I get a pic and autograph. I'm terrible at choosing the right color marker for an autograph so it came out on the darker side.
My next get is
Susan Kelechi Watson
from This Is Us. The only main cast member I need now is Sterling K. Brown!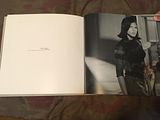 So then I head to the Stonewall Inn where this meet and greet with Nicholas Brendon is scheduled for. He and his manager show up about 45 minutes late and we head up to the private room. He immediately cracks open a beer so I just want my picture and autograph so I can get out of there. Another fan starts asking him about the Buffy 20th Anniversary shoot from last year. Nicholas was kept separate from most of the cast at the request of David Boreanaz, so he had to be photoshopped into the group photo. Nick responds with "David is a dick. He doesn't give a shit about his fans. He'll fuck them while he's married. But he doesn't care about them like I do".
HOLY SHIT.
He starts signing autographs and signs a headshot from season 5 of Buffy and he casually mentions that he was "flying high on ecstasy that day" and he can barely remember the shoot at all. After getting my autograph I have his manager take a picture, which doesn't come out great so I take a selfie which looks much better to me. After watching him slur his way through 2 songs in Karaoke, I tell him I have to catch a train and he hugs me goodbye. The dude is super nice and well intentioned, but he needs to work on getting sober.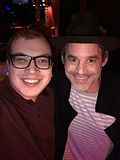 So the next day is my big day for Dylan McDermott. I get to the spot in the rain before anyone else is there and before they even have the barricade set up. Me and maybe 4 other people are waiting as the cast of Schitt's Creek shows up. I get
Dan Levy, Annie Murphy, and Emily Hampshire
. I try for Eugene Levy but he is walking with a slight limp and doesn't stop for anyone.
Next up is Dylan. Despite showing up WAY late and security telling him he needs to go inside he still stops and takes care of EVERYONE. Just a stand up guy! I get my picture and get my poster and DVD set signed!
Next up is singer
Cody Simpson
who I get while he's taking pictures with his teenybopper fans. Lastly for the day is the cast of the new series Lets Get Physical. My main want from them is
Jane Seymour
from Dr Quinn Medicine Woman. Heading in I get
Matt Jones
from Breaking Bad and
AnnaLynne McCord
from 90210.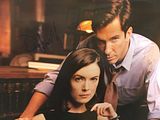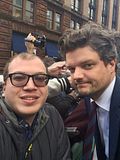 So I'm up against the barricade and maybe 2 or 3 people in, but the damn autographers and paparazzi are crowding me. So Jane Seymour stops and starts signing. She signs for everyone around me as people from behind starts shoving laserdiscs and papers in front of my face for her to sign. I ask her several times, with my camera out in position for a photo and she ignores me. I ask again, and she replied "Sorry everyone is asking a lot of me". All I need her to do is literally turn her head and look at the camera, but instead she heads down the line and inside.
At this point I'm pissed as she was right there and I didn't get it. So I decide to skip the train I had scheduled and wait around for her to come out. She and
Chris Diamantopoulos
come out and make their way back down the line. I score Chris and as Jane comes back to me she skips over me AGAIN. So I yell "JANE YOU SKIPPED ME AGAIN PLEASE". So she turns back for a moment so I can grab my photo!